---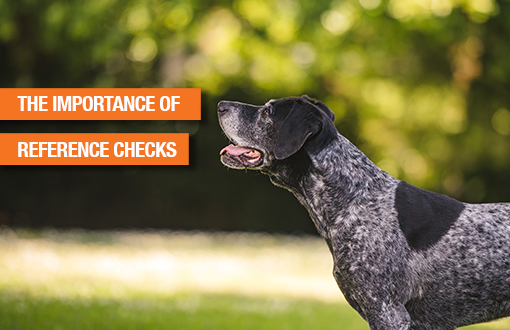 The importance of reference checks
Congratulations - you've made the shortlist! That's great, but don't break open the champagne just yet – the hiring process is far from over. In many ways, it has only just begun.
Reference checks are a critical part of any recruitment process that can make or break your application. During a 2019 survey of 2,800 senior managers in the USA conducted by Accountemps, it was discovered that a third of all candidates were removed from consideration following reference checking.* History would suggest that the marketplace in both Australia and New Zealand is likely to follow a similar trend to the USA within a timeframe of 5 to 6 years.
Yes, it really can be that important.
As a candidate, you need to ensure that you have selected the right referees in the first place and not just quickly scrambled a few names together at the bottom of your CV. Gone are the days where a reference check was conducted as a "just in case" option. Today, a hiring manager will be looking to see where your strengths lie, whether there may be areas that require development and how you react – or interact – within certain environments.
Here are a few things you can do in order to ensure you are doing your part:
Tailor your Reference Checks
In much the same way as you would (or should) tailor your CV for each application, you can also select your referees for each application based on who is best suited to discuss the duties you may have performed in a similar role. Supervisors or managers that you have reported to directly are the most valuable source of information to any hiring manager.
Select responsive people
When selecting who you would like to act as a referee, as best you can, make sure it is someone who can provide informed responses with the ability to go into detail regarding your performance. Choose someone who can sell you as a strong candidate.
Make sure there are no surprises!
Have you let your referees know in advance that there is a possibility that they could be contacted? You should - not only is it courteous, it also avoids an awkward, and potentially application-ending, conversation.
Update your referees' details
There is nothing worse for a hiring manager than being provided with referee details that are out of date, or coming across someone unwilling to provide a reference at all. You need to ensure your contacts are in fact still prepared to act as referees before you put them forward and that their contact details are up to date.
Don't fake it
Ensure that the person the hiring manager is about to speak to is a genuine referee and not just a colleague or friend that you worked with along the way. This is an absolute deal-breaker, and trust me – they will know.
Thank your referees!
Regardless of whether you landed the job or not, it is a good idea to contact your referee after the event with a message of thanks. Not only have they given up their valuable time to try and assist you, but there is also no better way to keep them onside for your next application.
Don't forget that regardless of the conversation, there will be one question that is always asked during any reference check:
"Would you re-employ the candidate again?"
So, choose your referees wisely. Seek someone who will give honest, balanced feedback. A gushing referee will have the opposite effect of what they are trying to achieve! Whilst there is nothing wrong with giving your referee a heads-up as to what the role you are applying for entails, a hiring manager may also be left with the opinion that the referee has been briefed as to what to say in advance should their response sound forced.
As with any step in the application process, credibility is key. Be genuine with who you are putting forward as a referee – they can make or break your entire application.
Source: https://www.roberthalf.com/blog/evaluating-job-candidates/check-your-references?utm_campaign=Press_Release&utm_medium=Link&utm_source=Press_Release