---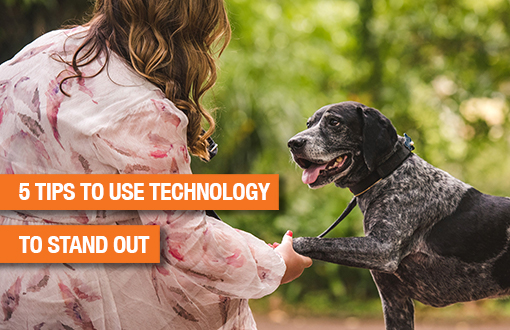 5 ways to embrace technology and stand out in a crowded job market
So, you are preparing your job application. Perhaps you need a new job, or are ready for the next challenge. Wherever you are in your career journey, chances are you will be competing in a crowded job market, so here are some tips to help you stand out and get your foot in the door using the latest technology and tools.
How we apply for jobs is changing all the time. It was only 10 years ago that some employers wouldn't accept email applications! Now, with the internet, here are just some of the key changes:
Vacancies reach more people, so there's potentially more competition which means it's harder to stand out from other applicants.
Your social media profile is likely to be used by recruiters and hiring managers to assess your personality.
Some job boards won't let you apply for a job without sharing your data with them, creating privacy concerns.
But it's not all bad. You can use technology to your advantage when you're job hunting. Here are our Top 5 tips for how to:
1. Video can bring your job application to life
Think about including a short video cover letter with your application, addressing your experience to the key selection criteria. Not only does this make you stand out, but it will showcase your ability to think outside the box and it gives you a greater chance to show your personality and presentation skills.
We highly recommend use of video for marketing and creative roles, but the appeal of moving pictures spans all industries. We recently had a client ask candidates to submit a video for an IT Helpdesk role! In 2019, we received over 100 applications for a receptionist role and just one sent a video with her cover letter. Whilst it was not an Emmy Award winning performance, she showed us her enthusiasm and went straight to the shortlist.
Talent Propeller Tip:
Make sure you create a fresh, customised video for each job you apply for; nothing kills your prospects faster than an application using the wrong company name.
2. Use templates to create a modern and relevant resume
Although some roles will accept expressions of interest directly from your LinkedIn profile, the majority of employers still expect to see documented resume.
The internet is full of templates to revamp the look and flow of your CV, so there's no excuse for an ugly format. Have someone objective look over it for you, or better still – get a professional opinion.
Talent Propeller Tip:
Since the onset of COVID-19, Talent Propeller has supported job seekers with a free CV review and makeover service to maximise your chances of securing an interview, so let us help you if you're not sure.
3. Register for job alerts
This is a no brainer; save time when you're job hunting by having interesting jobs delivered to your inbox. Instead of logging on every day to check new listings, you can spend more time creating great video cover letters!
Talent Propeller Tip:
Set up a job alert on www.talentpropellerjobs.com.au or www.talentpropellerjobs.co.nz for New Zealand opportunities.
4. Back yourself and show proof of your skills
For most roles, there are core skills you've got to have. Accountants are expected to know Excel. HTML Programmers should be able to program HTML and almost any job at a desk will demand knowledge of MSWord. Here's a tip: If you can prove you've got what it takes, then submit skills test results with your application. It helps your application to stand out and shows the employer you've made that extra bit of effort.
Talent Propeller Tip
Talent Propeller has free skills and aptitude tests available to candidates when you are applying via our website. You can attach these free of charge to any role you apply for via our website. The most common tests across industries are Typing Speed and Spelling/Grammar.
5. Be prepared to interview like a Star on Zoom
Great news, your application impressed and you've got an interview! With the increase in work from home options, more job interviews will be held online, even as we come out of the COVID crisis. This means that you need to ensure you present just as well on camera as you do in person.
Correct placement of your camera, lighting, dress code and how to maintain rapport with the interviewer are skills we'll cover in another blog.
If you have read this and found it helpful, we'd love your feedback. Or you can click on the link below, register your details and let us help with your search for securing your dream job!