---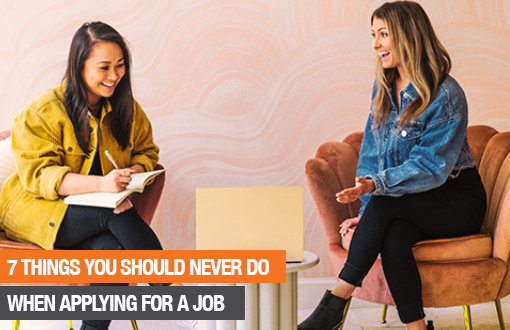 7 things you should never do when applying for a job
Whilst this blog is a little more light-hearted, the people are real, the cases are real, the rulings are final, this is 7 Things You Should Never Do When Applying for Jobs. There are many, many more that fall under this umbrella, however, I feel that my fingers would never get a break from typing them all out, so here are a few to take note of and hopefully you can have a laugh or two, or seven!
1: "I walked into an interview and there was the candidate with his feet on my boardroom table, cigarettes on the table next to his feet, and his arms behind his head. If I could have walked out before it had even begun, I would have!"
Lesson: First impressions MATTER!
2: "I invited a recent graduate to come in for a chat before his interview with a potential employer. He was very nervous and shaky and I thought, let's get him out of the office and go have a chat over coffee to see if I can calm his nerves. While ordering at the café, I asked if he would like anything, coffee is on me. He said no to the coffee but asked for a chicken caesar salad instead. ON MY DIME."
Lesson: Be prepared prior to an interview and know that your recruitment partner does not have a money tree growing in their backyard.
3: "I had secured a final interview for a candidate with a large state government organisation. We had discussed pay bandings with government roles and that there was no room for negotiation on these. This candidate gave me confirmation that the pay rate was within her means, however, when she sat down with the hiring manager, she advised them that she was worth more than what was on offer and demanded a pay raise, she didn't even have the job yet."
Lesson: Demanding a government organisation pay you more because you feel you are worth it, is not a quality that a potential employer looks for in a candidate.
4: "Opening the door to a candidate who decided that a short leather mini skirt was appropriate office attire was one thing, the fact I could smell alcohol on her breath and arrived with several plastic shopping bags was next level. Whilst one may try to not 'judge a book by its cover' – this interview was over before it had even started"
Lesson: YOU are your brand, present the best version of yourself.
5: "I had found the most amazing candidate whose CV ticked all the boxes and more, I invited him for an interview and I could not be happier with his answers and his enthusiasm and couldn't wait to present him to the hiring manager. At the end, I asked him if he had any questions, he asked the gender of the hiring manager. When I told him it was a female, he completely did a 180, stating he refuses to work for a woman as he doesn't want to be teaching them how to run the team."
Lesson: It's 2020, this line of thinking went out the window many moons ago, just like his chance of getting the job.
6: "I once had to deal with hiring a 20-year-old who was lovely but didn't have the required experience. His mum brought in a copy of his CV and had highlighted all of the 'experience' she thought was the most appropriate and hit the ceiling when I told her that I didn't think getting his mum to argue the case would make him a good fit."
Lesson: Whilst mums are great at encouraging their kids, lines have to be drawn, just not on their kid's CV.
7: "I had a guy once who rocked up in jeans, rocked back on the boardroom chair like he was too cool for school and proceeded to lay the entire contents of his pockets out on the table. Mobile phone, huge set of keys, wallet... it looked like a pawn shop counter. The one thing he wasn't carrying was a note pad or pen. Didn't get the job."
Lesson: Preparation is key, not presentation of your keys.

If you have read this and found it helpful but would still like a little more of a push in the right direction, why not let us give you a free CV makeover? Click on the link below, register your details and let us help with your search for securing your dream job! www.myjobhunt.com.au