---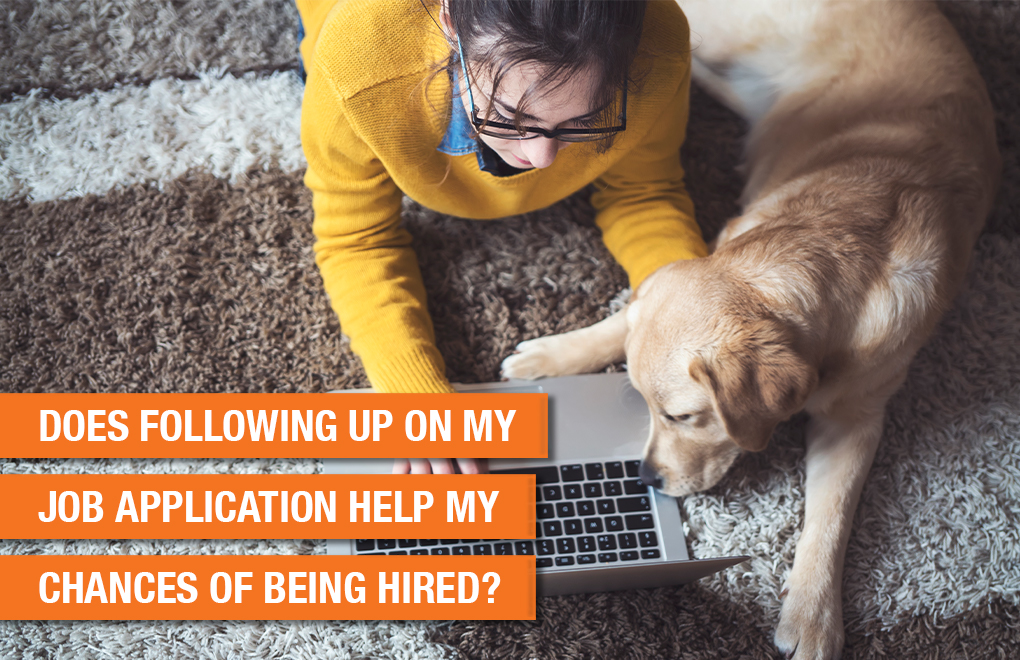 Does following up on my job application help my chances of being hired?
A common question we receive from job seekers is whether following up on a job application is a good idea. Does a follow-up help your chances of securing an interview, or could it be seen as desperation and create a negative impression?
In our experience, a key attribute that nearly all employers are looking for – regardless of the industry or role – is enthusiasm. They want to know that you are motivated by the opportunity and keen to put your best foot forward. Showing you are keen is a good thing, so our advice in general is: yes, do follow up.
However, there are some 'best practice' principles to adhere to in order to put your best foot forward. Your approach will also depend on whether you've had the first interview or are trying to get one!
1. Follow up with a personal call
Without fail, if you are going to follow up on the submission of your resume, we recommend picking up the phone and talking (or leaving a voice mail) with the hiring manager/recruiter. A warm and polite phone call gives you a chance to demonstrate your verbal communication skills, whilst also bringing you to life as more than just a name on a page. At the early stages, it makes you more memorable when your CV is being reviewed and if you're lucky, you may even be able to engage and build rapport.
If you are trying to get an interview, we are not advocates for following up via text, email, messenger or LinkedIn. It's a missed opportunity to connect and, at worst, could be seen as another annoying message in an already busy inbox. A personal phone call is the best way to show you are proactive.
However, if you have already had an interview, then a friendly email that confirms you enjoyed the meeting and are looking forward to the next steps is appropriate. In some cases, with some managers, a text would also be ok - but only if they have invited you to use their mobile phone number.
2. Make sure you are following up at the right time
Many companies don't begin the review process until after the closing date, so trying to engage with a hiring manager who has not even looked at your resume will be a challenge.
A better option before the closing date is to ring with (sensible) questions about the role. Most recruiters and hiring managers will have a quick discussion with you if you explain you are very interested in the advertisement and have a quick question. This may help them to look out for your application if the conversation went well. Keep your questions short and relevant though, don't ask them to reiterate what's in the advert or the position description.
After the close date, a follow up to reiterate your interest in the role and asking how the process is progressing is appropriate. For example: "I have applied for the role of XYZ and am very excited about the opportunity. I wanted to ask about your timing, when might I expect to know if I'm lucky enough to get/successful in getting an interview?''
3. How do I find the right person to follow up with?
If there are no contact details in the advertisement, then calling reception at either the company directly or the recruitment agency and asking for the person looking after XYZ role will be your best move.
In some cases, you may come across a corporate ''gatekeeper'' who will not give you any contact name and directs you to a faceless HR department. In this case, it is still worth leaving a message as it may find its way to the right person.
4. Common mistakes to avoid in following up during the recruitment process
A) Being too keen: I recall a candidate who called every three days for 2 weeks to remind me she was very eager for an interview. There is a fine line between enthusiasm and desperation. One, maximum two, follow up calls is ok. After that, you've crossed it.
B) Ignoring requests for further information: Skills tests and profiles are a common part of the recruitment process and often need to be completed before you can secure an interview. Not responding to request promptly or ignoring them altogether creates a negative impression that no follow-up call can undo.
C) Not respecting the employer's process: If the employer has specified how to apply, what documentation to enclose and given a closing date, then you must have followed their instructions if you expect your follow-up call to have any positive impact. Calling to check your application has been received when you emailed it instead of uploading online is probably going to be a waste of your time.
In summary, if you have had an interview, then following up to show you are still excited is a good idea. If you are trying to secure an interview, call just after the campaign closing date. Respect the manager/recruiter's time with succinct, polite and relevant questions. Good luck!