---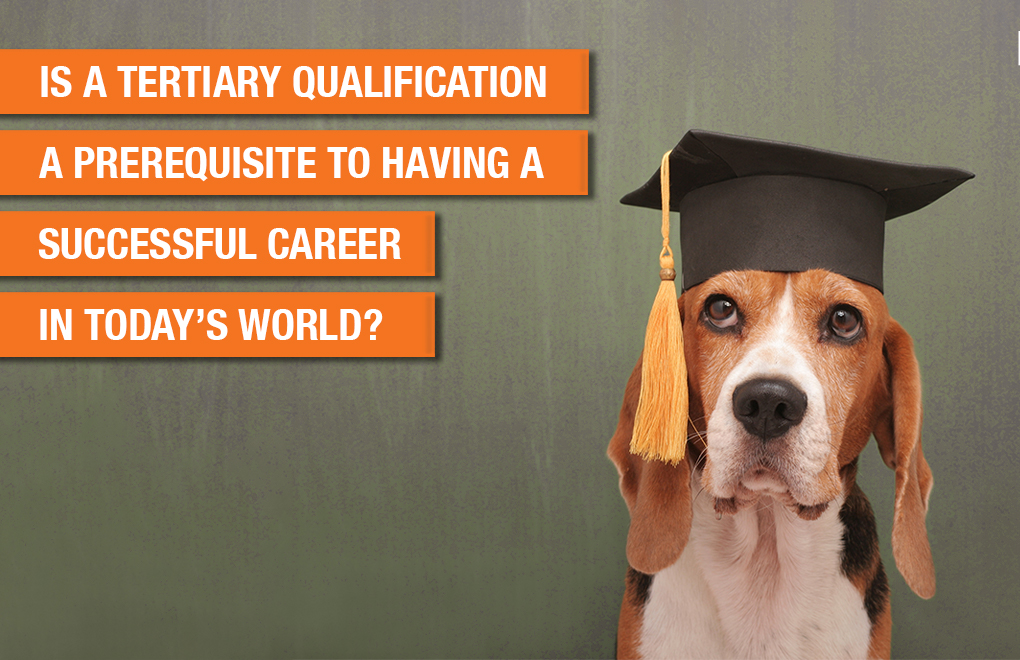 Is a tertiary qualification a prerequisite to having a successful career in today's world?
When Sharon Davies was 16, she withdrew from a prestigious ladies' school, itching to jump into the job market and embark on the next stage of her life. Fifteen years later, she was a nominee for NEXT Business Woman of the Year, part owner of the world's largest online motor home site and founder of Big Splash and Talent Propeller.
Sharon, like Bill Gates, Walt Disney and Richard Branson, did not need a university degree to be successful. Look to any of the entrepreneurs of the 20th and 21st centuries (particularly in the tech sector) and you will find countless examples where vision, tenacity and hard work outperformed a piece of paper.
However, not everyone is going to be an entrepreneur and if you want to give yourself the strongest chance of success, the figures suggest that a qualification is a 'ticket to the game'.
Getting a competitive advantage
Australia is one of the world's Top 10 most educated nations, with 45% of the population having received a tertiary education. NZ tracks at 37%, according to an OECD report.
Put another way, 40% of Australians aged 15-64 years have at least one qualification, whilst 24% have multiple qualifications.
This means that even if you technically don't need a qualification to do your job, (think Sales Support Coordinator or Accounts Payable), you are likely to be competing against people who have one. When an employer considers two applicants for the Accounts Payable role, you are going to need to show exceptional experience and connections to outweigh your lack of study.
A tertiary qualification does not necessarily mean a university degree
Think License (i.e., real estate) and Certificate (i.e., aged care, training) and you are looking at careers in industries where a qualification is essential. You just aren't employable unless you have done the basics. If you're in a hurry to get your career started, choosing these fields can be a faster track to success than starting out with a full degree.
Don't forget the trade sector: a chronic shortage of skilled and qualified tradies in many sectors across AU and NZ means choosing a trade qualification can set you up with an abundance of opportunity and earning potential.
In fact, two of the highest paying roles in Australia today that you can get without a degree, are Construction Manager and Maintenance Manager. However, you will still be expected to bring a trade qualification - and considerable experience.
Where a university degree shines
There are certain career paths where a university degree really is non-negotiable. Aside from the obvious engineering, legal and medical fields, current employers of HR Assistants, Marketing Assistants, IT Helpdesk, Program Managers and even Community Managers in the social media field are requiring applicants to produce a degree.
Even in the aforementioned areas of aged care and trades, if you want to progress to senior management, it will help you to have business qualification. If your aspirations are in large corporate, government or even substantial community organisations, you will need a Bachelor's degree as a minimum, with a Master's often cited as highly desirable.
There is an argument that in industries like medicine, digital marketing and engineering, traditional degrees are struggling to keep up with pace of industry progress and change, but the fact that you have base line theory to build on is valued. You are then expected to keep yourself on the cutting edge with continuous professional development, possibly with micro-credential and nano-degree institutions.
What job can I do without a tertiary qualification?
Based on our experience at Talent Propeller, where we speak with hundreds of employers every month, here are some of the areas we see where a qualification is generally not required:
Cleaning, warehouse pick/pack, delivery driver, flight attendant, sales person, receptionist, administration assistant, labourer, flooring installer, hospitality (although management roles usually require certificates).
In summary
Even if you plan to be a dynamic entrepreneur, study doesn't hurt. It's worth noting that Mark Zuckerberg and Bill Gates have set foot in college, even if they didn't graduate. The people they met, combined with the skills they learnt almost certainly contributed to their later success. Remember, it's not just about what you know, but who you know too.
Talent Propeller Jobs advertises vacancies across AU and NZ, and we also offer CV makeovers to help you put your best foot forward. Got a degree and no experience? Got experience but no degree? We can help.